Meicam Shortcut – Smart Template Solution
In templated production, the efficiency of video production is improved in a relatively simplified way of use
Program introduction
In templated production, the efficiency of video production is improved in a relatively simplified way of use. But at the same time, the solidified style also brings about the problem of the rapid disappearance of freshness. Therefore, designers will create a large number of templates, covering a variety of types and content, for users to choose. When a large number of template materials are presented, how to manually select a template and how to fill in the most suitable material for the template. Solving the above problems and making the use of templates more efficient is the purpose of the one-click filming solution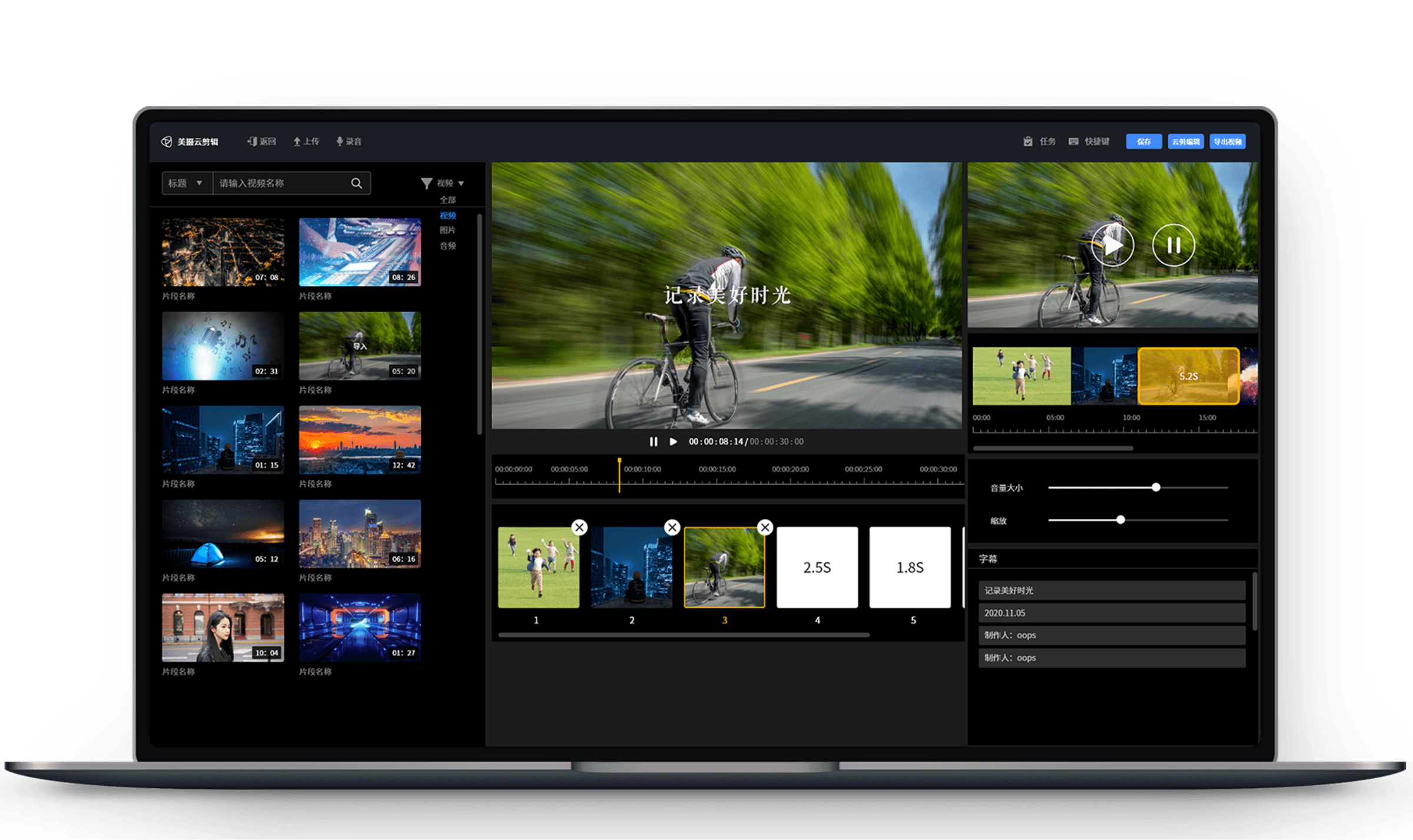 Solution Value

Pay more attention to the core content of imported materials, and recommend templates with high matching degree according to the content

It can detect and recommend a wider range of content, such as: people, food, pets, scenery, and life shots

Template making tool for visual editing, which is convenient for designers to quickly produce more stylized template materials
Product function
Intelligent detection is based on Meicam's huge AI tag library. The tag dimensions used in this solution are: scene、object、activity、image category、sky、weather、people and time
The detection label of the scheme can be increased or decreased according to the needs of user scenarios
Scene
475 scene tags for mountains、rivers、seaside、deserts、stadiums、shopping streets、concert,etc.
Object
Including 999 object labels such as common objects in life、cats、dogs、food、insects、vehicles,etc.
Activity
Including daily common activities、weddings、birthdays、singing、military training, two sessions and other 28 items
Image
Categories include: 10 items including astrophotography、ecological photography、portrait photography, etc.
Sky
Sky status detection, including 14 items such as burning clouds、airplane clouds、rainbows、blue sky、cloudy sky, etc.
Meteorological
Rain、snow、fog、sand、 day and night 6 items
Person
Including number、race、age、gender, etc.
Time
festivals、seasons、solar terms, etc.
Solution Architecture

Solution Flow

Product advantage
It is convenient for B-end enterprise users to build one-click intelligent production product modules
Improve video production quickly
Scheme supporting template material library
Support B-end personalized template customization
Application scenarios
Album products automatically push videos
Material library products deeply mine video value
Vehicle intelligent production scene
Service Mode
Offline delivery of native code
Server-side SDK provides private deployment
Related product recommendation
AI smart clip
An intelligent editing method with large-scale footage of audio-visual language thinking, and intelligent editing strategies can be customized according to user needs
Smart composition
You can experience intelligent composition schemes in shooting and editing scenes, based on subject detection, intelligent automation for composition